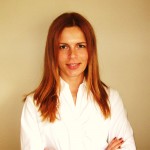 Ana Mrkobrada - a freelance interior design architect from Belgrade, Serbia
With a BA of Architecture and holding a Responsible Engineer license, I have participated in the design of diverse national and international projects as both an associate and engineer. Each day I work with creative people in the area of architecture and similar professions to contribute to the making of high quality environments, living and commercial spaces.
I believe that the design should say a lot about the client. The philosophy and sensibility of the client are interpreted through the built environment, making the architecture itself an authentic reflection of a society in a certain age.
A good designer should tell a story about the space and investor, connecting in the same pace the desires and wishes of the client, proposing functional and original designs while respecting budget limitations, the national regulations and the projected deadlines.
Services
Building Design
Interior Design
Designing and Executing Lighting
Exterior design
3D Spatial Visualization
"Fancy Cribs" Design
Autocad Drafting
Consulting
Services
Building Design
This entails functional and elegant spatial planning, making outlines with all possible variants , developing the concept and main project along with all the required graphic appendices.
Interior Design
A harmonious and functional disposition of furniture, carefully planned lighting, colours and materials in line with the needs and affinities of the clients, will add to a more personalized space tailored to the client.
Designing and Executing Lighting
Lighting is one of the most important factors in space design which is why I give it special significance. According to the calculated requirements of the space and cooperating with the top global brands, you can give your space an authentic seal.
Exterior Design
Your backyards and terraces can look attractive and glamorous; they can be more pleasant and comfortable for your family and friends. Planning an ambient doesn't end within a brick structure but together with the immediate surroundings, it makes up a unique whole.
3D Spatial Visualization
There is often a requirement during spatial design to propose multiple solutions to the investor, so they are able to get a better feel of the advantages and flaws of all the options with a 3D model.
Animations
When it is required to display all the aspects of the space in more detail, an animation is made in the form of a short video, if so requested
"Fancy Cribs" Design
When you need a completely out of this world, ultramodern design that leaves no one indifferent.
Autocad Drafting
Architects with overloaded human capacities, and working under short time frames, to designers, engineers and consultants I offer outsourcing solutions for the professional design of graphic appendices.
Architecture Consulting
When you require brief advice you can send an outline of your space with the requirements and desired alterations. I will be happy to propose several diverse solutions!
Projects
All projects in which I have participated are based on the needs of the clients, a mutual exchange of ideas and harmonizing design with the projected budget and deadlines.

Contact
If you have any questions or are interested in any of the services that I can provide, do not hesitate to contact me.
EMAIL:
[email protected]